PTA SPUD FUNDRAISER RUNS THROUGH THE MONTH OF APRIL
Kindergarten Information Night (Parents Only) - April 26, 2018 at 6:30 PM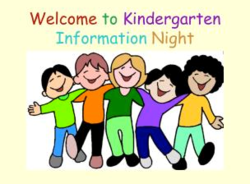 Kindergarten registration is now open for the 2018–2019 school year. Families who have a child registered are invited to attend our Kindergarten Information Night on April 26 at 6:30 PM. This night is for parents and guardians only. Please do not bring your children. Kindergarten students will visit the school, in June, on a day especially created for them.
Take a tour of the classrooms
Meet the teachers
Learn about Kindergarten and the importance of play-based learning
 To help families prepare even more, Elk Island Public Schools has compiled a wealth of information on its website (http://www.eips.ca/programs-services/kindergarten).
 NOTE: To be eligible to attend Kindergarten in the 2018–2019 school year, children must be five years of age on, or before, December 31, 2018.
School Council/PTA - Meetings for 2017-18
Take a moment to check out the great things our School Council and PTA do for students at our school. Because your child goes to WFG, you are automatically a member of the School Council and PTA.
Check out the School Council/PTA website link at http://winfergusonparents.com/
Join the Win Ferguson School Council and PTA meetings to get involved in the ongoings and decisions of our great school! Meetings start at 6:45 PM in the Learning Commons.
Meeting Dates: October 30, Nov. 27, Jan. 15, Feb. 12, Mar. 19, Apr. 16 - 6:00 PM (time change for this meeting only), May 28
All meetings are in the Learning Commons and begin at 6:45 PM.
Division News