District Notice
Reviewing outstanding school fees
The school fee information visible on the PowerSchool app may not accurately reflect your family's outstanding fees. Please log in to the desktop version of the PowerSchool Parent Portal and click the Student Fees tab at the top of the left-hand navigation menu to view the correct amount owing.
Noon Supervisors Needed for 2018-19!
We need you!
If you are interested in becoming a full-time, part-time or substitute Noon Supervisor, please contact the school today!
780-998-1441
National Indigenous Peoples Day - June 21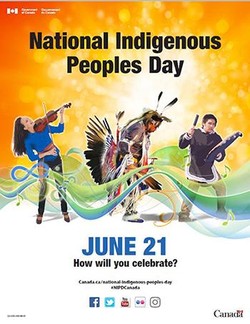 Here is what we will be doing at WFG on this important day:
ECS - ECS classes will be doing a Read Aloud lesson with the book "Jingle Dancer" by Cynthia Leitich Smith.  With this book, students will explore the importance of celebrations, sharing and community in First Nations culture.  Students will also be introduced to the Medicine Wheel and create their own.  Finally, students will have the opportunity to watch and try a Jingle Dance, just like Jenna, the main character in the story.
Classes 11, 21, 14 will be making Teepee's, learning about the clothing and reading stories, to celebrate the day.
Class 13 will be making bannock, and discussing how the Indigenous Peoples of Canada made bannock on a fire.
Class 21 will be reading "Raven: A Trickster Tale from the Pacific Northwest" by Gerald McDermott.  The book features the Raven, as a spirit animal, who is depicted in Pacific Northwest tribes' art, traditions, myths and legends. We will then complete art work inspired by the book.
Classes 22/23 will be listening to "When I was Eight" on Tumblebooks; having a discussion around what happened in the past; reading "How the Birch Tree Got Its Stripes"; doing an art project to compliment the story.
Classes 31, 32, 33 will read "Totem Poles" book from library; discuss the significance and purpose of Totem poles in Indigenous culture; look at images of real totem poles; discuss the common animals used on totems, and the significance of each; students will make their own totem pole model out of paper, by selecting and colouring images from those provided. 
Class 41 will read the story Claire and Her Grandfather; watch a video about National Aboriginal Day; discuss why totem poles are significant; and create a totem pole.
Class 43 will be listening to a story and discussing the contributions that the First Nations have brought to Canada. Then we will be discussing totem poles and their meanings. If we have extra time, the students will colour and complete a folding art project.
Class 45 will watch a video about Indigenous people; read "I am not a number"; make totem poles and discuss the symbolism of the totem pole.
Class 51 will be creating their own totem poles. They will be given access to handouts that contain information about what each colour symbolizes, as well as what each animal represents.  They will then draw their own totem poles and pick animals and colours that relate to themselves.  Once they have drawn their totem pole, they will complete a writing piece to go along with it.  For each animal they choose, they will need to discuss what the animal represented, how it related to themselves and why they chose the color that they did. We will also be playing the traditional kick the stick game/relay race, during DPA.
Class 52 will be reading "Through Mala's Eyes" ; Let's Meet Mala narrative (Audio interview); Locating Salluit, Nunavik; Where did we come From (audio narrative);Traditional and Modern Homes in an Inuit Community
Grade 6 will be spending some time outdoors playing some First Nations games, for Phys. Ed.
PTA SPUD FUNDRAISER RUNS UNTIL JUNE 29th!
School Council/PTA - Notice of Organizational Meeting for 2018-19
NOTICE! The organizational meeting of the Win Ferguson School Council and Parent-Teacher Association will be on September 17th, at 6:45 PM, in the Learning Commons.
Take a moment to check out the great things our School Council and PTA do for students at our school. Because your child goes to WFG, you are automatically a member of the School Council and PTA.
Check out the School Council/PTA website link at http://winfergusonparents.com/
Join the Win Ferguson School Council and PTA meetings to get involved in the ongoings and decisions of our great school! Meetings start at 6:45 PM in the Learning Commons.
Meeting Dates: Meetings for 2017-18 are now completed. We want to thank all those individuals who participated in our meetings!
All meetings are in the Learning Commons and begin at 6:45 PM.
2017-18 EIPS Parent Survey Results Report
 The results are now available for the 2017-18 EIPS Parent Survey conducted in March. Thank you to all families who took the time to share their feedback with the Division. The survey included 20 questions related to the three priorities outlined in the EIPS 2015-2018 Three-Year Education Plan:
Priority 1: Promote growth and success for all students
Priority 2: Enhance high quality learning and working environments
Priority 3: Enhance public education through effective engagement, partnerships and communication
The overall Division results represent 2,918 responses from parents and guardians across EIPS. This was an increase in responses from 2,678 in the previous year.
The survey results for Win Ferguson Elementary have helped us identify the following areas of strength and opportunities for growth.
Areas of strength:
Parents believe we are a safe school.
Parents believe we care about our students.
Parents are satisfied that their children receive a quality education.
Opportunities for growth:
Providing more opportunities for parents to learn how to become involved in decision making at the school.
Providing more opportunities for parents to share concerns about learning resources for their child's learning.
Providing more opportunities for parents to find out about what their children are learning in respect to First Nation, Metis, and Inuit culture and history.
The feedback gathered will help our school and the Division measure its progress toward meeting the priorities and goals outlined in the EIPS 2015-2018 Three-Year Education Plan and develop strategies to better serve students and the wider community moving forward. 
Parent Survey Results: Division Click on link

2018 Win Ferguson Parent Survey Click on link.
Division News